Engaged Invested Exploited?
19.05.11 BY Maciej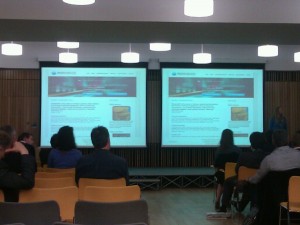 We enjoyed the fantastic facilities at the Edinburgh University School of Informatics, at the EIE 2011 event.  We were exhibiting and Anne Johnson, our lead investor spoke shortly after lunch, alongside the excellent Nigel Eccles, MD of Fanduel, about the process of finding investors and what start-up companies should be doing to attract Angels and VCs.
We were thrilled to see our new website also making an appearance on the big screen (see the photo above) in front of such an expert and experienced crowd.
Comments are closed.